Polyvinyl Chloride (PVC) Pipes
Description
PVC is one of the specified thermoplastic for piping system components, including valves, fittings, flanges and many speciality products. PVC has excellent chemical and corrosion resistance to a broad range of fluids.
ASTRAL uPVC materials conform to ASTM Cell Classification 12454-B of ASTM D1784 (formally designated as Type I, Grade I ). The maximum recommended service temperature of PVC products is 60°C (140°F)
Pipe
PVC makes a major contribution to the quality , safety and cost-effectiveness of construction materials, as well as helping to reduce the environmental impact of completed projects. PVC is the most widely used polymer in building and construction applications and over 50 percent of Western Europe's annual PVC production is used in this sector. PVC has a versatility that helps to meet modern and future design needs.
Fittings
LEFT
Primer / Solvent Cement
ASTRAL Aquarius uPVC solvent joint plumbing system makes its pressure bearing capacity twice than that of the threaded pipe.
BASIC USE
ASTRAL Aquarius uPVC pipes & fittings exhibit the wellknown physical characteristics and other benefits of conventional uPVC piping such as good chemical and corrosion resistance, low thermal conductivity, high strength-to-weight ratio, good impact resistance and ease of installation.
SYSTEM DESIGN
System design shall be in accordance with standard industry practice for thermoplastic industrial piping systems and shall take into consideration such factors as pressure and flow requirements, friction loss, operating temperatures, support spacing, anchoring, bracing and thrust blocking, temperature correction factors, joining methods, chemical environment, collapse and loading, and thermal expansion and contraction.
Key Properties
ASTRAL Aquarius Lead Free Plumbing System is tough, durable with high tensile and impact strength. The system is light in weight and can be transported easily from one place to another .
ASTRAL Aquarius Lead Free pipes can be cut, shaped, welded and jointed easily .
ASTRAL Aquarius Lead Free Plumbing System is inherently difficult to ignite and stops burning once the source of heat is removed. Compared to its common plastic alternatives PVC performs better in terms of lower combustibility , flammability , flame propagation and heat release. Newly developed advantages in terms of lower acid emissions, smoke generation and enhanced fire resistance.
ASTRAL Aquarius Lead Free Plumbing System is durable and free from weaknesses caused by rusting, weathering and chemical action and hence last for life time
ASTRAL Aquarius Lead Free Plumbing System can be used in sunlight exposed conditions. However , ASTRAL recommends a standard grade of exterior latex paint (water base) which will protect the system adequately
Jointing can be done speedily with special IPS solvent cement supplied by the company which ensures 100% leak proof joints
ASTRAL Aquarius pipes are non-toxic and lead free which makes them a safe material for potable water . It is also the world's most researched and thoroughly tested material for PVC which meets all international standards for safety and health for both the products and applications
Smooth inner surface ensures high flow rate and low friction losses. The system is leach and scale free.
PVC does not conduct electricity . ASTRAL Aquarius pipes are non conductor of electricity so it make the plumbing system safe when working with electrical tools or equipments.
uPVC is generally inert to most mineral acids, bases, salts and paraffinic hydrocarbon solutions. For more information on uPVC chemical resistance refer to Chemical Resistance of Rigid Vinyls Based
ASTRAL Aquarius Lead Free Plumbing System available from ½" (15 mm) to 12" (300 mm) with wide range of fittings, transition fittings, valves and specially designed brass inserted fittings to suit any design criteria.
STANDARDS & SPECIFICATIONS
ASTM D 1784 - Rigid Poly Vinyl Chloride (PVC) Compounds.
ASTM D 1785 - Poly Vinyl Chloride (PVC) Plastic Pipes, SCH 40 & SCH 80
ASTM D 2466 - Socket type Poly Vinyl Chloride (PVC) Plastic Pipe Fittings, SCH 40
ASTM D 2467 - Socket type Poly Vinyl Chloride (PVC) Plastic Pipe Fittings, SCH 80
ASTM D 2564 - Solvent Cements for Plastic Pipes & Fittings
ASTM F 1498 - T aper Pipe threads 60° for Thermoplastics Pipe & Fittings
ASTM D 2774 - Underground Installation of Thermoplastic Pipes
ISO 7/1 - Pipe threads where pressure joints are made on threads -
Part 1 : Designation, Dimension & T olerances.
Descriptive Codes
ASTM - American Society for T esting of Materials
ANSI - American National Standards Institute
BSP - British Standard Pipe IPS - Iron Pipe Size (ASTM)
NPT - National Pipe Threads (ANSI) FIPT - Female Iron Pipe Threads
MIPT - Male Iron Pipe Threads SOCKET - Solvent Weld Socket
SPIGOT - Spigot End (IPS) FBSP - Female BSP Threads
MBSP - Male BSP Threads NSF - National Sanitation Foundation
PVC - Poly Vinyl Chloride EPDM - Ethylene Propylene Rubber
Pressure Ratings for uPVC Schedule 40 and Schedule 80 as per ASTM D-1785:
Table 3.1 PRESSURE RATING @23°C uPVC SCHEDULE 40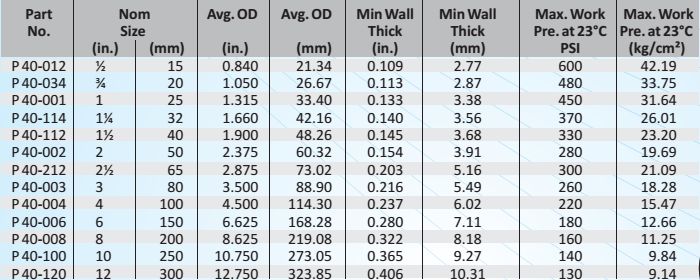 Mpa = Mega Pascal 1MPa = 10kg/cm² 1kg/cm² = 14.223343 PSI.
Table 3.2 PRESSURE RATING @23°C uPVC SCHEDULE 80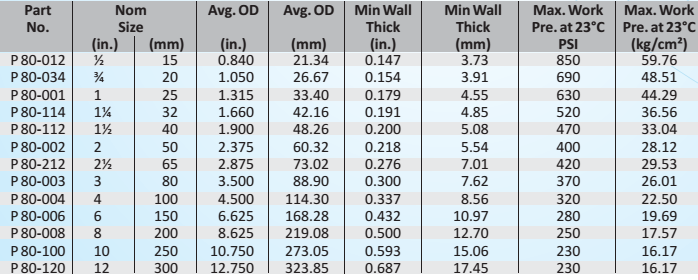 Table 3.3 SUGGESTED MAXIMUM INTERNAL WORKING PRESSURE @ 73°F (23°C)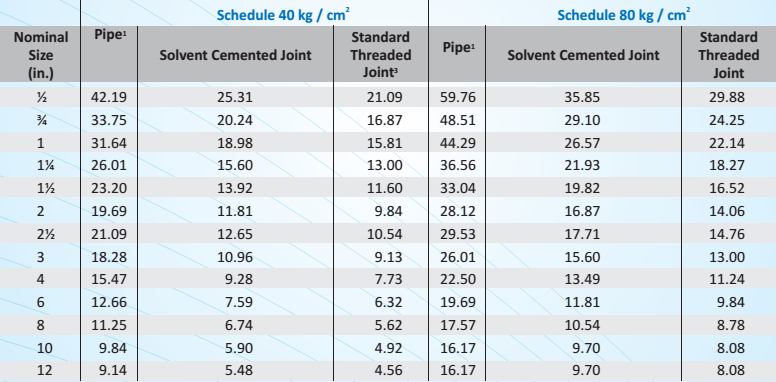 Table 3.4 SCHEDULE 40 AS PER ASTM D-2466, SCHEDULE 80 AS PER ASTM D-2467